INTRODUCTION TO UK ACADEMY
UK Academy (UKA) International Bilingual School was born in 2016. UKA is a multi-level school system from Kindergarten to High School, one of the member schools in the educational ecosystem. of Nguyen Hoang Group. Since the early days of its establishment, UKA has always innovated and created to bring British standard education to students throughout Vietnam and gradually become a "common home" for more than 10,000 talented young citizens.
UKA school system stretches across provinces and cities from North to South, including campuses in provinces and cities: Ha Long, Hue, Da Nang, Quang Ngai, Gia Lai, Ho Chi Minh City, Ba Ria – Vung Tau. With 07 campuses nationwide, the learning program at UKA is uninterrupted and consistent throughout the system.
With the Humanistic educational philosophy, UKA builds a foundation for comprehensive development of intelligence, skills, body and soul. By pursuing the principle of "joy of learning", UKA's curriculum brings a harmonious combination between the curriculum of the Ministry of Education and Training (MOET) and the Oxford International Curriculum (OIC), the educational curriculum of the Ministry of Education and Training (MOET). IGCSE international high school education, NCUK's international university preparatory program or A - Level, IELTS exam preparation program and international standard extracurricular programs such as JA, AMEB.
WHY YOU SHOULD CHOOSE UK ACADEMY
A team of teachers who meet international standards and are certified by professional partners. With an annual training program combined with a strict teaching quality monitoring process, UKA school system teachers are constantly innovating and improving. Highly qualified in teaching and always dedicated to the journey of spreading knowledge.
5-star standard facilities system, integrated utilities with advanced teaching and learning equipment, meeting international standards such as multi-purpose gymnasium, swimming pool, football field, music room, art room, STEM Robotics room, Informatics room, school psychology room; Build a closed, safe, green - clean - beautiful learning environment.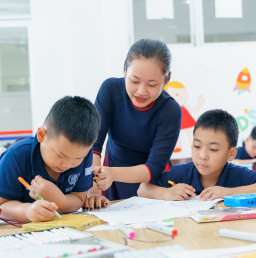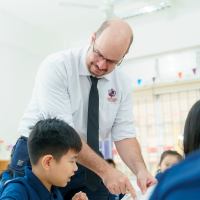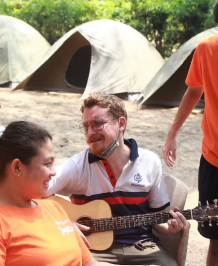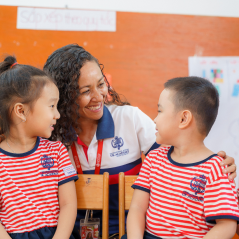 MESSAGE FROM THE BOARD OF LEADERSHIP
"Progress every day" is the spirit of the entire school's leadership and staff in managing, educating and caring for students. Students are also conveyed by their teachers the great meaning of this spirit, to apply anytime, anywhere in their studies and daily life. We believe that students can only achieve their best when schools and families work together and we greatly appreciate your companionship and support in the school's educational activities. Wishing you and your family good health and happiness. LEADERSHIP Nguyen Hoang Group
LEADERSHIP TEAM
NGUYEN HOANG GROUP
EDUCATIONAL PHILOSOPHY
THE 5H EDUCATIONAL PHILOSOPHY INCLUDING: HEAD, HEART, HAND, HEALTH AND HUMAN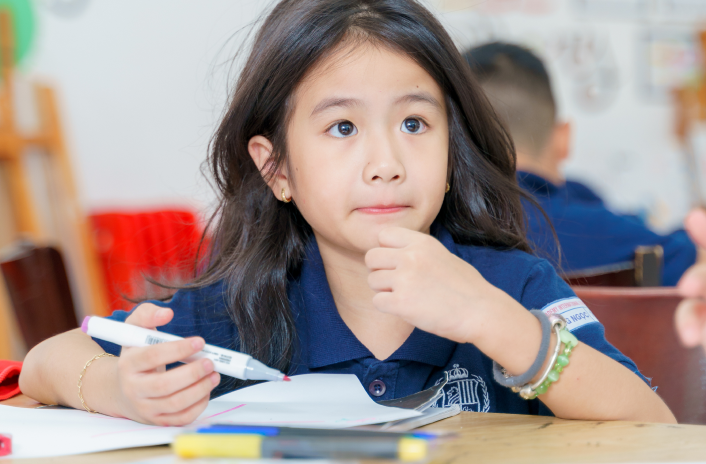 5H
TOWARDS COMPREHENSIVE DEVELOPMENT FOR STUDENTS
Head
Know how to think and reason
Heart
Have a loving heart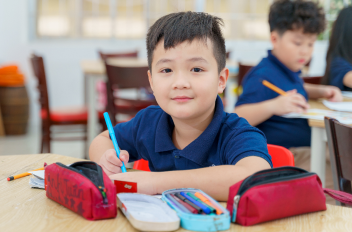 Hand
Labour and work hard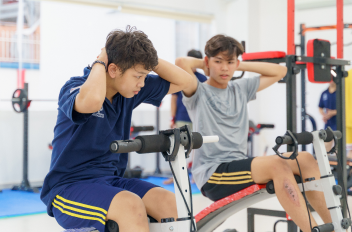 Health
Cherish and maintain your health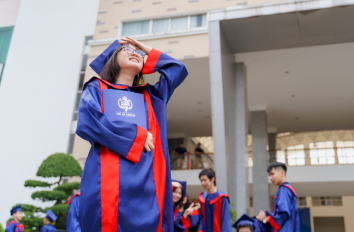 Human
Become a perfect, humane person
OUR VISION
Becoming a world-class Bilingual Inter-Level school system.
CORE VALUES
UKA believes that every student needs to be trained according to a core personality value system. That value system will be the foundation for all future behavior and character of students. From there, build global citizens with qualities and bravery.
INTEGRITY

honesty, courage to protect the truth, living responsibly with oneself and the community.

RESPECT

accept opinions and differences, cherish the feelings and dignity of yourself and others.

SHINE

excel and confidently demonstrate your abilities.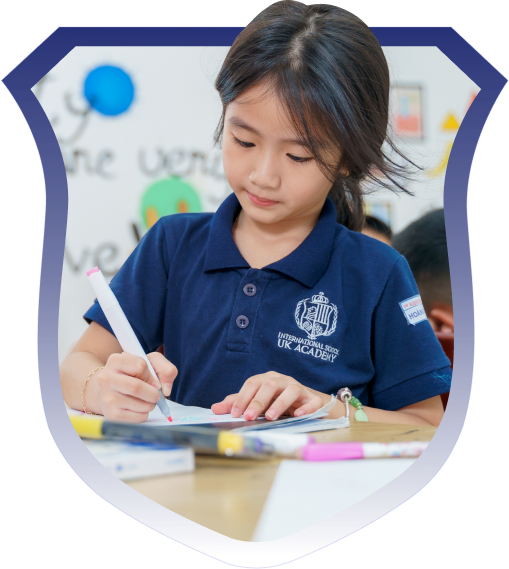 DISCIPLINE

strictly comply with the law, school rules, principles, commitments and personal goals.

CREATIVITY

creating new values, new methods to serve the interests and happiness of individuals and the community.

LOVE

sympathize, share and help each other.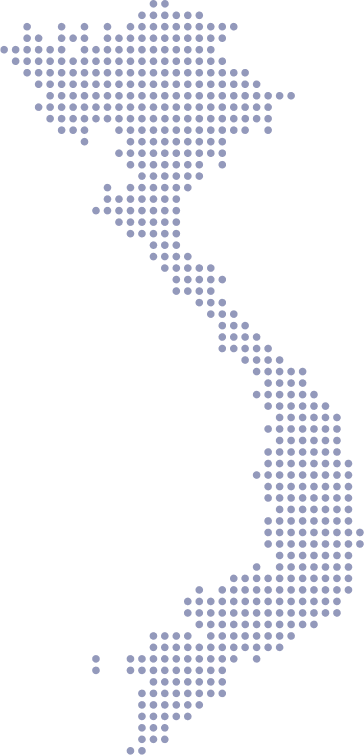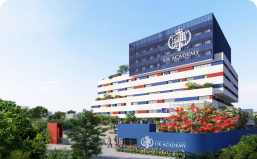 Binh Thanh Campus- HCM
48 Vo Oanh, Ward 25, District Binh Thanh, HCM City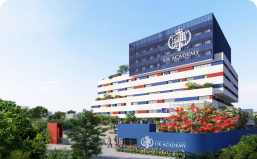 Ha Long Campus - Quảng Ninh
Phan Dang Luu, Ward Hong Hai, Ha Long City, Quang Ninh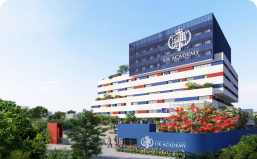 Gia Lai Campus - Gia Lai
39 Han Mac Tu, Ward Tra Ba, Pleiku City, Gia Lai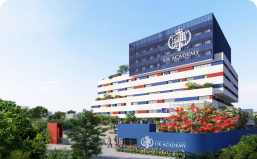 Hue Campus - Thua Thien Hue
Tinh Lo 10, Ward Phu Thuong, Hue City, Thua Thien Hue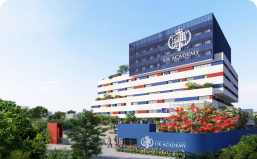 Da Nang Campus - Da Nang
K1/2 Ton That Dam, District Thanh Khe, Da Nang City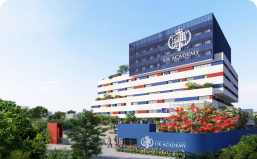 Ba Ria Campus - Ba Ria Vung Tau
165 Nguyen Huu Tho, Ward Phuoc Hiep, Ba Ria - Vung Tau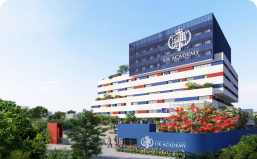 Quang Ngai Campus - Quang Ngai
230 Truong Chinh, Ward Nghia Lo, Quang Ngai City, Quang Ngai
UK ACADEMY SCHOOL SYSTEM
The UK ACADEMY SCHOOL SYSTEM stretches across provinces and cities from North to South, all equipped with modern facilities with advanced teaching and learning equipment, meeting international standards.
Ho Chi Minh
Quang Ninh
Gia Lai
Thua Thien Hue
Da Nang
Vung Tau
Quang Ngai